Sell my iPhone 6s Plus 64GB
Discover our iPhone 6s Plus 64GB trade in service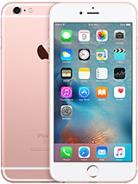 Description
If you're looking to sell your iPhone 6s Plus 64GB, Envirofone is here to help. Our Apple recycling team buy a wide range of used handsets at competitive rates, and will make sure you get the best deal possible.
To sell iPhone 6s Plus 64GB handsets to Envirofone, choose your network from the dropdown menu to find out exactly what we can offer you. If you like what you see, click 'Sell this phone' to register or to log in, and we'll send you one of our totally FREE postage boxes with instructions on what to do next.
We also accept broken or damaged devices, so don't worry if your iPhone is a little worse for wear. Simply send us your old phone using the process outlined above and we'll examine it and get in touch to confirm the price. Unfortunately we can't always pay the full price for broken handsets, but – if for any reason you're unhappy with our price – we'll send your phone back to you FREE of charge.