Sell my Apple iPhone XR 64GB
Find out your Apple iPhone XR 64GB trade in value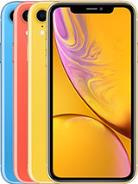 Description
How to sell my iPhone XR 64GB?
Dreaming of an iPhone upgrade? Or are you keen to cash in and spend some spondoolies elsewhere? In either case, we'll give you the best price on the market for your iPhone XR 64GB. You don't need to worry about cracks, broken bits, or poor-performing battery life either—we've seen it all before. So, sell your iPhone XR 64GB today, and we'll transfer you the cash as soon as we've run a few checks.
It's true that Apple has released a raft of handsets since the XR range came to market in 2018, but that's not to say this model is any less impressive. For this reason, we'll still give you a great price based on your handset's condition.
The XR 64GB was the first iPhone to feature an all-screen front (bar the notch at the top), resulting in a more eye-pleasing and hand-gratifying aesthetic. Is yours still in tip-top shape? If so, we'll pay you even more. It's such a stunning design that the XR's successors have followed suit and utilised the same elements. Its rounded edges are silky smooth, its rear is clad in plush aero-grade aluminium, and the glass is one of the strongest on the market. That's a lot of lovely tech we'd love to take off your hands.
Are you looking to sell a broken iPhone XR 64GB? We're still interested. Got a cracked screen? That's fine too. Once your iPhone XR 64GB arrives at Envirofone HQ, our experts will run a handful of tests (actually, it's not just a few, it's more like 100!) and determine its market value based on the handset's individual merits. Of course, that means you'll always get a price tailored to your phone.
For example, you can sell us an iPhone XR 64 GB in working condition and receive cash to spend on a new handset, such as the latest flagship Apple or Samsung device. And if you do choose to trade in an iPhone XR 64GB device, we'll give you even more cash to spend in our store.
What are you waiting for? Sell an iPhone 64GB to Envirofone today. We'll even send you one of our free postal bags, so it's simply a case of sitting back and watching the cash roll in.