Sell Samsung Galaxy S8
Find out your Samsung Galaxy S8 G950F trade in value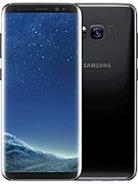 Description
Fancy getting cash for your Samsung Galaxy S8? At Envirofone, you can get a quick lump sum for your old device by simply sending it to us. Eyeing an upgrade? You can trade in your Samsung and receive 12% extra towards an improved handset. Whatever you decide, one thing's for sure: selling with Envirofone is always a stress-free process.
Here's how straightforward it is.
How to sell your Samsung Galaxy S8
We know life is busy, so we've made selling your old Samsung Galaxy S8 quick and easy. To transform your smartphone into cash:
Head to our website and pop in the make, model, storage size and network
Take a nosey at your instant trade-in offer and request a free Envirofone mailing pack
Follow the simple delivery instructions and send your smartphone to us. It's always free with Envirofone
Accept your final offer. If you're happy with it, we'll pay you the same day we process your device
How much can I sell my Samsung Galaxy S8 for?
You can make serious moolah from your Samsung Galaxy S8. How much we offer depends on a few factors, including:
Phone condition
Memory size
Colour
Customer demand
The more these factors work in your phone's favour, the more we'll offer. It's as simple as that. And speaking of simple, you'll always receive an instant valuation, so you know how much money could land in your bank account.
But what if you disagree with our final offer? While it rarely happens, we'll send your Samsung Galaxy S8 back to you for free if you're not happy with it. No dramas.
How can I get the best price for my Samsung Galaxy S8?
To increase your phone's value, get it unlocked by contacting your network carrier. Most will unlock it for free. You can also improve your offer by looking after your smartphone. We always cough up more for devices in top condition.
Can I sell a broken Samsung Galaxy S8?
You sure can. We'll accept Samsung smartphones with varying levels of damage, including:
LCD damage
Poor battery
Malfunctioning OS
Water damage
Broken buttons and parts, such as cameras and speakers
Chips, smashed screens and scratches
Can I sell a locked Samsung Galaxy S8?
Yes, we'll always take a locked Samsung Galaxy S8 off your hands for a fair price, but you'll get more cash if it arrives unlocked. So, get in touch with your network carrier. We'd be surprised if they didn't sort it for free.
What do I need to do before selling my Samsung Galaxy S8?
Honestly? Not much at all. All you need to do is remove the SIM card, as you may need it for your next device. Don't worry about resetting your handset. It's the first thing we do when your phone lands at our doors, so there's no chance of anyone seeing your files. That's an Envirofone promise.
Can I trade in my Samsung Galaxy S8?
Absolutely! And when you trade it in with Envirofone, you'll receive an extra 12% of your phone's value towards your next device! Perfect if you're after an upgrade or another device from our extensive refurbished tech range.
Why sell with Envirofone?
We put more cash in your pocket by offering a fair price for your old tech. Plus, you can trade in your Galaxy S8 and add 12% towards your next Envirofone device. Need even more reason? You're in luck:
Quick sale. Pop in your device details. Request a free Envirofone pack. Send it to us and get paid. It's really that simple.
Fast payment. You get paid on the same day we process your device. So you get quick cash every single time you sell with us.
Protect the environment. We always refurbish phones when possible and recycle otherwise. Nothing ever goes to a harmful landfill site.
No hidden fees. What you see is what you get. There won't be any crafty hidden fees for postage, admin fees and the like.
Got other phones to sell?
Chances are you've got other old phones lying around. So, why not get quick money by selling them to us? You can sell other Samsung phones, including: